Hello All.
So I wanted to write a post all about a campaign that is going on right now that we all need to get involved in. Just a Card is a campaign to encourage people to buy from Designer/Makers & Indi shops/galleries. Set up by the lovely Sarah Hamilton (whose work is amazing, check her out) with Mollie Makes and The Design Trust.
Sarah's aim is to get this logo recognized by everyone and get the message out there to support handmade no matter how small or big the purchase is, every single purchase counts. Being someone who is starting out their very own handmade business, I cannot tell you how much it means to us the makers to receive even the smallest sale. This is why they have used something as small as a card as people all year round need a card, why not suggest to look to the handmade lovingly created cards that our worth just as much as a supermarket chain card.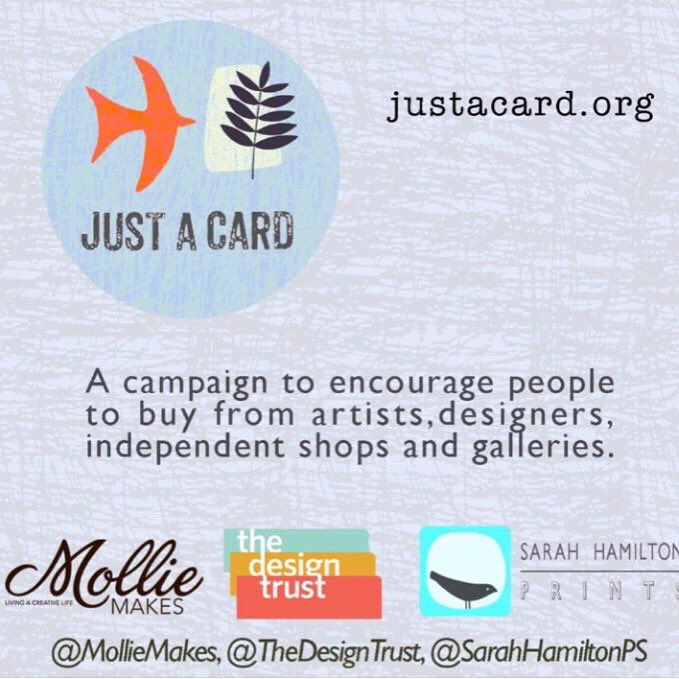 It was really sad to hear the story of how a shop keeper recently had to close their doors and how even just small purchases could have saved them.
"If everyone who'd complimented our beautiful gallery had bought just a card we'd still be open."

 
I feel that everyone should help and get behind this campaign, as everyone knows of someone who is creative or a maker and would support their work, so why not support others!
Follow #justacard on Twitter, Instagram and Facebook. Join the campaign and download their posters and flyers to have on your stall or in your shop window here.